This CD is the perfect companion for any Middle Eastern Dance performer, student and Egyptian music enthusiast.
The songs were hand picked by Leyla  to give you a variety selection of music perfectly suited for performances of Egyptian Dance.
$18…Contact Leyla for payment link..                                                                                                                                                                                                                                                                   
Cost includes shipping and handling inside the Continental USA.  For other parts of the world contact Leyla for cost of the shipping charge.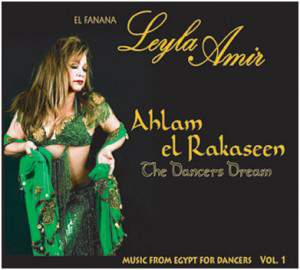 Tracks
1. Oriental 5:36 2. Oriental 5:18 3. Tabla Beledi 4:00 4. Shaabi 3:59 5. Modern Saidi 5:49 6. Modern Beledi 4:00 7.Modern Beledi 4:55 8. Sha'abi 6:01 9. Sha'abi 4:26 10. Tabla Progression 4:04 11. Tabla / Tabla Duet 3:25 12.Tabla / Sagat 4:32 13. Tabla 3:26 14. Finale 0:44